Questions to Candidates
Members of Cambridge Doughnut asked candidates standing for the upcoming elections in Cambridge and surrounding areas to answer three questions about how they will look after the needs of citizens while taking into consideration environmental limits and the climate emergency. We received responses across party lines and a number of candidates referenced Doughnut Economics during their campaigning as well.
Click on this box to read their responses...
Our Vision
We envisage a world with an economy that operates within the Earth's capacity, protects the natural environment and meets the social and economic needs of all people.
CamDEAG does not align itself to or identify with any political party but believes that the economic, environmental and social principles set out in Kate Raworth's 'Doughnut Economics' are relevant to any political decision-making. However, we are ready and willing to endorse and support any part of the programme or manifesto of any political party which seeks to study or develop these principles.
Our Mission
We seek to promote an economy based on doughnut principles in Cambridge. We will facilitate its introduction by enabling individuals and organisations with the knowledge and tools they need to co-create a more socially and ecologically just city.
Context
Cambridge is the most unequal city in the UK. It is situated in an unequal county and ever more unequal world. At the same time, we are in the midst of a global ecological and climate emergency that threatens the very existence of the world we cherish. Yet we cannot solve one without addressing the other.
The current coronavirus pandemic has further exacerbated social inequality both locally and globally, extending the humanitarian disaster into once stable communities. This is not just unfortunate; it is a message (or warning) that our city and world cannot return to business-as-usual. We need a new approach.
Way Forward
Firstly we need to build the Cambridge Doughnut. This is a portrait of the City which identifies the issues we face and agrees ways to measure the current situation.
The Cambridge Doughnut envisions a socially just world in which the essentials of life, like access to nutritious food and decent housing, are afforded to all. The Doughnut's social foundation (the inner ring of the doughnut) sets out the minimum standard of living to which we all have a claim. The Doughnut's ecological ceiling (the outer ring) comprises the planetary boundaries within which we must live to preserve our world - a stable climate, fertile soils, healthy oceans, a protective ozone layer, ample fresh water and abundant biodiversity on Earth (see image below). 
"Between the social foundation and the ecological ceiling lies a doughnut-shaped space in which it is possible to meet the needs of all people within the means of the living planet – an ecologically safe and socially just space in which humanity can thrive." - Kate Raworth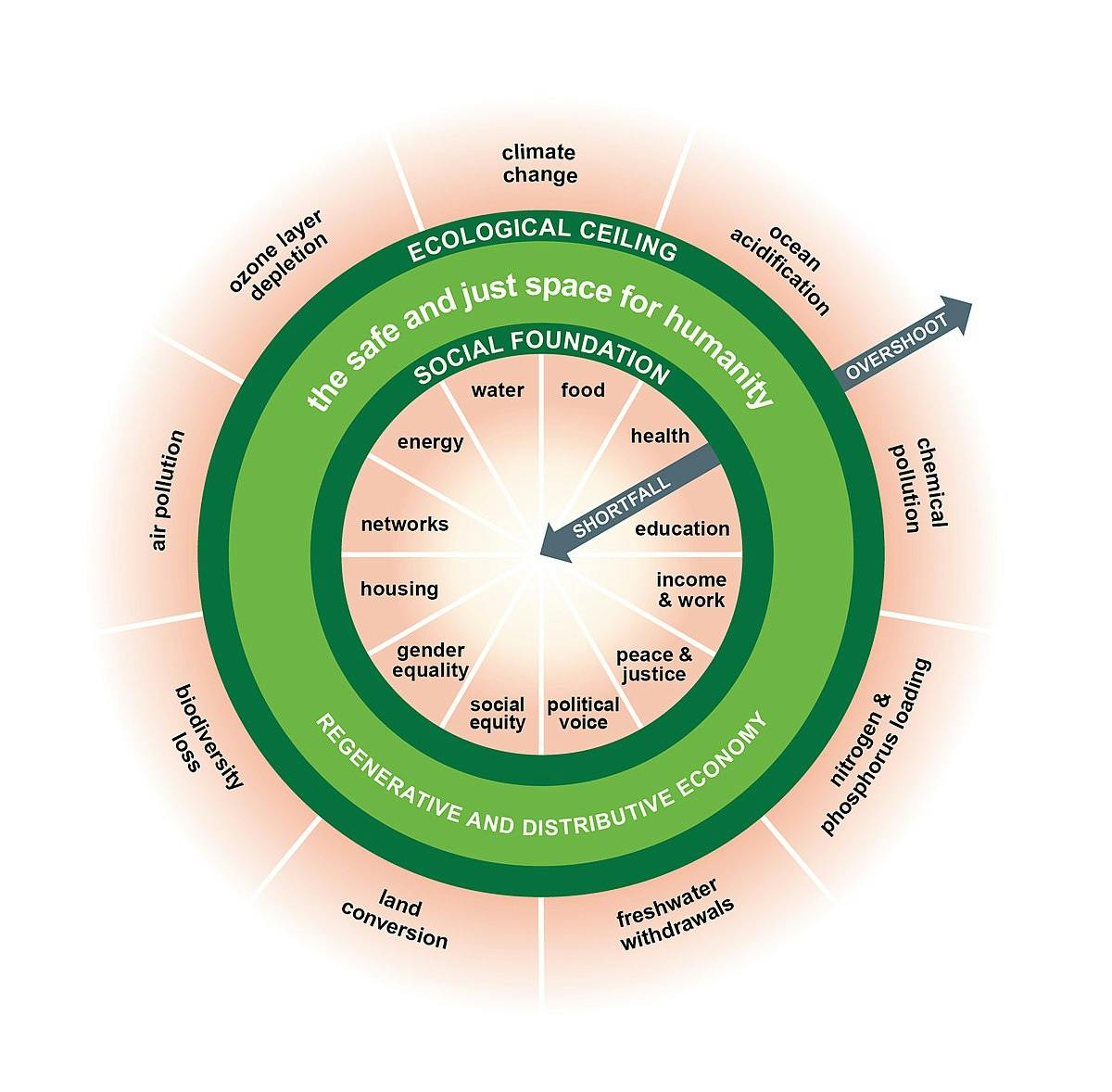 The project will start with discussion and data collection at community level so we can all decide the social and ecological targets for our City. Once completed, the doughnut will provide a dashboard of indicators to show where the city is operating within safe ecological and social limits, and where it is underperforming (see examples of national dashboards below). The doughnut portrait will not itself provide solutions but is a mechanism to guide decision making for key players in the city to help them identify effective approaches and priorities.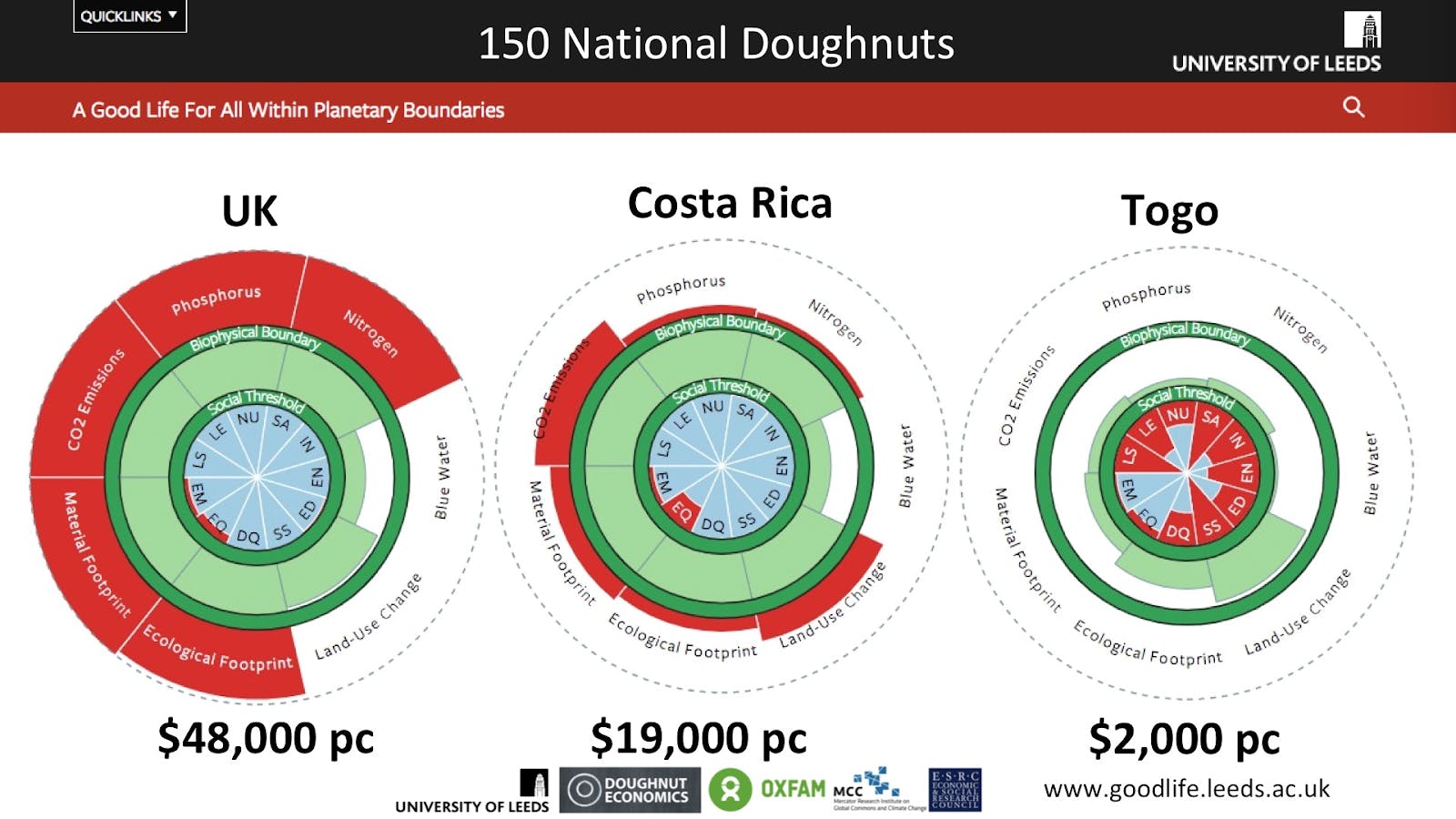 This can only succeed as a communal, city-wide effort. We wish to work collaboratively with residents, businesses, universities and other organisations to promote the design, construction and implementation of a doughnut economy. We need your help. Please visit the Join Us page to learn how you can get involved.